<<< BACK

Introduction to Gear Process Engineering
February 20-21-22, 2018
Naperville, Illinois
Cost: $1,925
(Register additional attendees at a 10% discount each)
Online Registration Link
For more details, please open the Seminar Information Packet (PDF)

A Jump Start on Gear Process Engineering
The intensive 3-day course is designed to provide attendees with a comprehensive overview of the fundamentals involved in successful processing of gears for manufacturing.

In this course, the attendees will learn,

Evaluating the blueprint for processing
Determining equipment and sequences required for producing the part
Strategies for efficient, cost saving processing
Review of major production operations for processing insights
Principles of locating surfaces and stock allowance
The impact of heat treatment
Quality - Surface Temper Etch and Magnaflux
And much more!
Upon completing the course, attendees will have processed sample gears, and will fully understand the core principles - preparing them for further on-the-job refinement of their skills. Attendees will also receive an in-depth training manual for future reference on key topics.
Presenters
Arvid Casler
NorthStar Aerospace - Metallurgist

Matt Mondek
Mondek Solutions - President

Bruce Roberge
The Quote Machine LLC - President

Chuck Schultz
Beyta Gear Service - Principal, Gear Consultant

Mike Steele
NorthStar Aerospace - Responsible Level 3

Who Should Attend

Newly degreed manufacturing engineers
New hires with little process engineering experience
Experienced shop personnel transferring into Engineering
Prerequisites include blueprint reading, shop math, a good knowledge of gear manufacturing and/or general metal working experience
Training Benefits
Finding qualified gear process engineers is a common challenge in the gear manufacturing industry and companies are often faced with the need to train internal resources on their own. However, this can be a very long process and can put a strain on existing engineering staff. By utilizing the AGS training experience, trainees can acquire a comprehensive overview of gear processing from leading industry experts; resulting in a skilled process engineer much faster and for far less cost.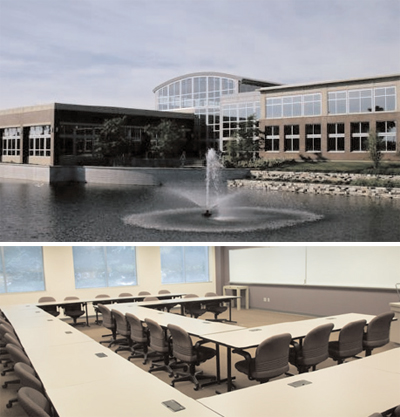 Training Facility at NIU Naperville
Location
The seminar is being held at:

Northern Illinois University
Naperville Conference Center
1120 E Diehl Rd #150
Naperville, IL 60563
www.niunaperville.niu.edu
630-577-9101
Breakfast and lunch on each day of the event is included. A block of rooms at a discounted rate have been reserved at the Hampton Inn Chicago/Naperville. The Hampton is located across the street from the Conference Center at 1087 East Diehl Rd., Naperville. The Hampton's phone number is 630-505-1400. When calling for reservations, please mention the AGS Processing Seminar to receive the reduced rates. Alternatively, you can use the following online form to make your reservation and the discounted rate will apply.
Hampton Inn Online Reservation Form
For more information, please contact Joe Arvin at
arvinglobal@gmail.com
or Scott Newton at 630-234-4988
Online Registration Link
Seminar Information Packet
(PDF)
<<< BACK