The AGS Manufacturing Training Series
Ongoing training, and the transfer of knowledge from one generation to the next is key to the success of manufacturing. AGS is committed to meeting this need. Please review the following courses currently scheduled.
---
A Study of Heat Treating Methods and Dealing with Distortion
- Featuring: Carburizing, Hardening/Quenching - Die Quenching and Straightening - Vacuum Carburizing and Quenching - Nitriding - Induction (Simultaneous Dual Frequency) Hardening
January 16-17, 2018
Naperville, Illinois
Cost: $1,275
(Register additional attendees at a 10% discount each)
Online Registration Link
For more details, please open the
Seminar Information Packet
(PDF)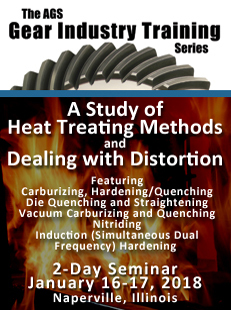 The intensive 2-day course, presented by Arvin Global Solutions (AGS), is designed to provide attendees with a wide range of information for more fully understanding a variety of heat treat methods and how to minimize the impact of distortion during the manufacturing process.
In manufacturing, a broad knowledge of the available heat treat methods is critical for being competitive. And applying this knowledge to produce top quality, and minimizing the impact of heat treat distortion, can save your company the headaches of late deliveries and the wasted profit lost to scrap and rework.

This course is designed for Design and Manufacturing Engineers, Upper and Middle Managers Responsible for Production, and Quality and Heat Treat Personnel in the Commercial, Automotive, and Aerospace Industries. Attendees should have a general base knowledge of heat treating principles.

Presenters of the course include:
Arvid Casler
Christian Krause, Dr.-Ing.
Matt Mondek
Fred Otto
Al Swiglo
Michael Reichling
Melvin Ty Cooper
The scope of this course will include,
Examination and Evaluation of Available Methods for Heat Treating, including, Carburizing, Hardening/Quenching; Die Quenching and Straightening; Vacuum Carburizing and Quenching; Nitriding; and Induction (Simultaneous Dual Frequency) Hardening.
Metallurgical Overview of the Heat Treating Process
Anticipating When Heat Treat Distortion Can Occur
Methods for Minimizing Distortion During Heat Treatment
Methods for Correcting Distortion during Post-Heat Treatment Operations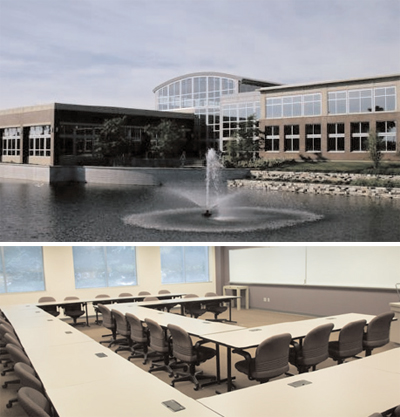 Training Facility at NIU Naperville
Location
The seminar is being held at:

Northern Illinois University
Naperville Conference Center
1120 E Diehl Rd #150
Naperville, IL 60563
www.niunaperville.niu.edu
630-577-9101
Breakfast and lunch on each day of the event is included. A block of rooms at a discounted rate have been reserved at the Hampton Inn Chicago/Naperville. The Hampton is located across the street from the Conference Center at 1087 East Diehl Rd., Naperville. The Hampton's phone number is 630-505-1400. When calling for reservations, please mention the AGS Heat Treating Seminar to receive the reduced rates. Alternatively, you can use the following online form to make your reservation and the discounted rate will apply.
Hampton Inn Online Reservation Form
For more information, please contact Joe Arvin at
arvinglobal@gmail.com
or Scott Newton at 630-234-4988
Online Registration Link
Seminar Information Packet
(PDF)